Mahalo for your entry and all your support!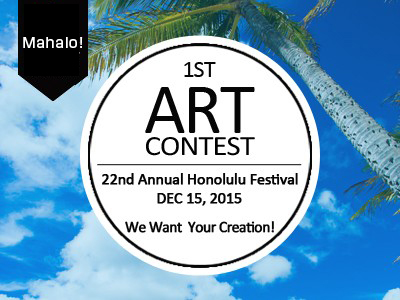 The 22nd Honolulu Festival annouced a call for entries for its Art contest in November. This contest opened to all residents of Hawaii including school students. The artworks should be incorporates two theme, the main theme "Pacific Harmony" and the 22nd festival sub theme, "Cultural Harmony, Journey to Peace".
After receiveing 15 entries, we had judging process through the Facebook votes, Honolulu Fesitval Commitee members votes and the special guest juror, Kuni Yamamoto, President & Art Director Clarence Lee Design & Associates.
Today, we are pleased to announce the five winners!
Award Categories
1. Honolulu Festival Official Artist 2016 : Nanako Mori
2. Special Recognition Award : Herocca
3. High School Prize : Mary Elizabeth Dela Cruz
4. Junior High School Prize : Branden Pagurayan
5. Elementary School Prize : Kyle Crowder

Honolulu Festival Official Artist 2016, Nanako Mori's artwork will be the main visual for the poster, flyers and the official guide book.
All the artwork will be exibited at Hawaii convention center during Honolulu Festival. Please come down to see their wonderful artworks ! Mahalo for your entry and all your support !
Honolulu Festival Official Artist 2016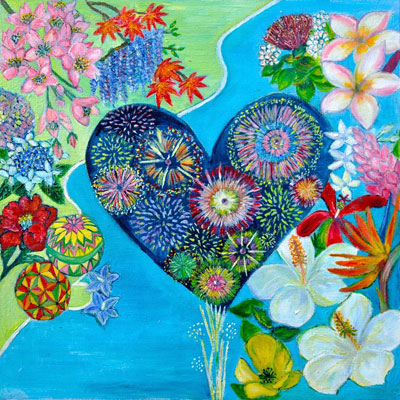 Nanako Mori
Born in Tokyo, Japan, Nanako Mori learned how to oil paint during elementary school and has been painting since.
Three years ago, Nanako moved to Honolulu. She has become fascinated by the local lifestyle, which she describes as being full of positive energy.
Inspired by her surroundings, Nanako's artwork depicts beautiful island sceneries and showcases how the people of Hawaii live in harmony with nature. Her winning painting features a heart­shaped firework display and symbolizes cultural harmony.
Nanako thinks that a mixture of various cultures in Hawaii makes the destination more interesting and unique.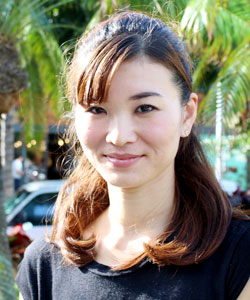 About Artwork:
I drew some flowers which bloom beautifully in countries of the Pacific Rim including white hibiscuses which are endemic in Oahu island and cherry blossoms which symbolize Japan.
I wish everyone values in each other and every beautiful culture around the world continues to thrive like flowers which have beautiful individuality and bloom together. These flowers I drew also express shining Honolulu Festival participants who love their own culture and other culture, and desire peace.
Under the gaze of those people, heart­shaped Nagaoka fireworks, one of the biggest events of Honolulu Festival, are set off and celebrate journey to peace.
Message from Kuni Yamamoto, the special guest juror:
It is an artwork that gives you the sense of splendid happiness, warmth of the heart and yearning for the peace. By combining the world in which fireworks are being shot at night inside one's heart with the world of day filled with all sorts of flowers, it is expressing the theme of "Cultural Harmony, Journey to the Peace" really well. The colors are used very carefully and beautifully. It is a great artwork that nicely conveys the excitement of dreams.
Special Recognition Award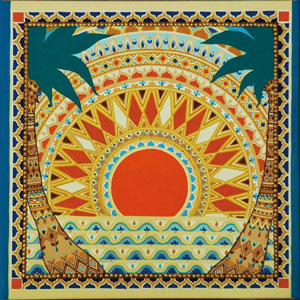 Herocca
Since she was a child, Herocca always loved to draw. It has given her the freedom to fully express herself, even as she grew older.
After moving from Japan, She noticed that there was so much more color here in Hawaii than she has ever experienced before. She was inspired by the island's ocean and nature views and the fragrances.
She noticed that as we go through our busy daily lives, we often forget to stop and enjoy the beauty around us. She decided to use her talent to share a bit of color from Hawaii with people around the world.
Through her artwork, She hopes to bring happiness to as many people as possible.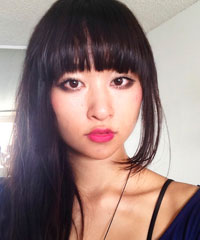 About Artwork:
I am originally from Japan, and I moved to Hawaii 3 years ago. When I first came to Hawaii, I was shocked to find that there were so many similarities in culture between my home country and here.
People are kind to one another, respect their elders, and love their families. I feel that both places have a sense of 和 (Harmony, Peace), and I wanted to draw something that represents this. For inspiration, I thought about what inspires me, and realized I get most of my inspiration from nature, especially the sun. I believe that the sun, filled with energy, watches over us, bringing us life, warmth, and connects all people around the world. Where ever you are, the sun shines upon you the same, regardless of race, culture, or religion. If everyone stopped to watch the sun rise or set, we will be one step closer to the journey to peace.
Message from Kuni Yamamoto, the special guest juror:
It is a splendid artwork that wonderfully expressing the theme of "Cultural Harmony, Journey to the Peace". The painting is so powerful and rich in expressions that it gives viewers high spirit, hope for the future and positive thoughts. It is giving you a sense of feeling of various traditional cultures from different countries through a scenario where the sun with mysterious power and symbolizes the peace is giving the light to people. I assume that it is expressing "Cultural Harmony" by drawing the pattern which is nicely done in detail. Because of its symmetric composition, the depth of the frame, palm tree and the background, I can feel the journey from the gate of the palm tree to the sun (peace). In addition, the quality of this artwork is extremely high especially with the contrast of the red color (sun) with the green color (palm tree) and the plaster with pattern.
High School Prize / Junior High School Prize / Elementary School Prize
High School Prize: Mary Elizabeth Dela Cruz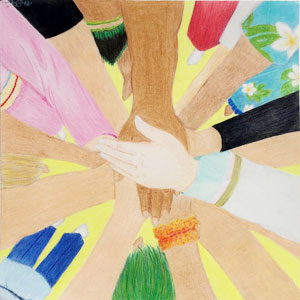 About Artwork:
My concept was to incorporate performers from various cultures to huddle in together and put all their hands in to symbolize that no matter who we are and where we come from, we are all the same. We live and work together to strive to create great things and to create harmony in the world.
I looked on the website and saw the gallery of pictures to see what kind of performers perform for this festival. I had to do my share of research for my concept of this contest because I wanted to accurately represent the performers' attire because that's how I wanted to represent these performers. They each have different costumes and they each do many things in order to make the festival a success and that's what I wanted to show through my artwork.
Junior High School Prize: Branden Pagurayan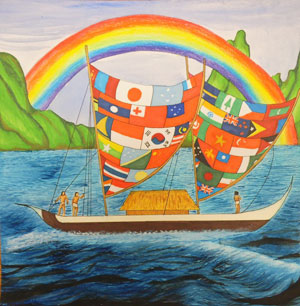 About Artwork:
My artwork has a picture of a sailing canoe in the Pacific Ocean. In the background there is an island and a rainbow. I based my artwork on the Hokule'a and how they are sailing around the world to visit every nation.
I put nations in the Pacific Ocean on the sails since the theme was about cultural harmony and bringing peace. I don't know much about the Honolulu Festival but I am in the 7th grade and we will be learning about Pacific Islands next semester. I used markers, watercolors, and color pencils.
Elementary School Prize: Kyle Crowder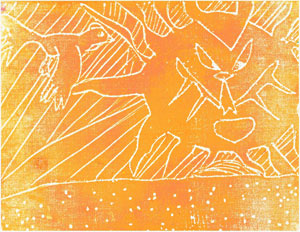 About Artwork:
I drew the big and powerful sun to represent the fact that we are one big family under the sun, sharing the earth resources. I also drew a flying dove as a symbol of the world peace. I decided to used orange because it was my favorite color and it was Honolulu Festival theme color.
Special Guest Juror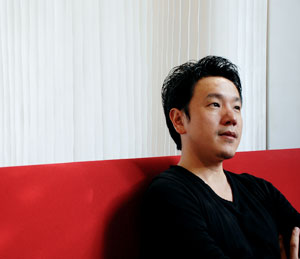 KUNI YAMAMOTO
President & Art Director
Clarence Lee Design & Associates
http://clarencelee.com
Born in Japan, Kuni is a graduate of Osaka University of Arts where he received a Bachelor of Fine Arts degree. Over 19 years of experience in corporate and brand identities, promotions, packaging, websites, and spatial design. He recently worked with Hilton Grand Vacations creating marketing tools, brochures. He also has worked with DFS Galleria to help design their brochures and other forms of collateral. Companies such as Hawaii Tourism Japan called upon his digital media expertise in designing an official YouTube brand channel "HiTube". He produced total design packaging, promotional and advertisement tools for the new brand "Baba's Coffee". JTB Hawaii consulted his wide spectrum of design expertise when deploying their new Oli Oli Walker "Whale Bus" Project in which he handled all aspects of the total branding design from: character design, vehicle graphics, etc.
He also worked at one of the biggest design firms in western Japan: AIDMA. His clients included some of Japan's most prestigious companies such as Panasonic and NTT Group. Uprooted in 2005, he came to Hawaii and joined CLD as vice president and established an international division in order to provide Japanese­-related companies with high quality design services. He also established a web division which has enabled the office to effectively execute a total corporate identity program, encompassing integration of all three areas: graphic, environmental, and web design in both English and Japanese.
Awards include 2009/2010/2011/2012/2013/2014/2015 AAF PELE AWARDS in Hawaii–Winners, 2011/2013/2015 AIGA HAWAII'S 50–Winners, SUMMIT CREATIVE AWARD—Best of Show, and HOW INTERNATIONAL AWARDS—Award of Merit, etc.
As CLD approaches its 50th anniversary, Kuni founded the 111-­HAWAII PROJECT, an officially certified project endorsed by Hawaii Tourism Japan. This idea spawned out of his deepest gratitude for Hawaii, as a way to try and give back to the local community. Working together with local businesses, he aims to develop stronger branded products that can be sold in Hawaii and revitalize the community while at the same time donating portion of the sales toward helping local non-profit organizations in Hawaii.
http://www.111­hawaii.com
Member of the American Institute of Graphic Artists (AIGA)
Member of the Japan Graphic Designers Association (JAGDA)