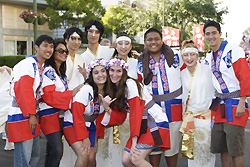 The 14th Annual Honolulu Festival theme has been announced by the Honolulu Festival Foundation, "Experience the Wonder ". Experience the wonder of the Pacific, the wonder of its culture, traditions, its people and their way of life. Experience the wonder through their music and dance. Join the festivities from March 14-16, 2008, something new and wondrous to you.
Each year the Honolulu Festival continues to reach out and expand to a wider range of spectators and participants from across the Pacific. The 14th Annual Honolulu Festival will be a spectacular three-day extravaganza filled with art, crafts, food, music and dance from Japan, Hawaii, Taiwan, Australia, the Philippines and other Pacific Rim countries.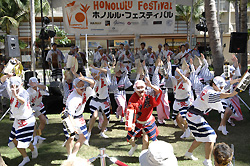 Highlights of this celebration will include entertainment and demonstrations at the Hawaii Convention Center, Ala Moana Center and Waikiki Beach Walk. A Craft Fair, Student Educational Tours and the 5th U.S.-Japan Cultural Exchange Seminar Program are also part of the festivities. All events are free and open to the public. The culmination of the Honolulu Festival will be the Grand Parade down Kalakaua Avenue in Waikiki. This spectacular parade features colorful floats and lively dance performances representing the Pacific Rim.
We encourage you to come to "Experience the Wonder" that the people of various cultures across the Pacific will bring together for this annual event. Come join the 14th Annual Honolulu Festival, March 14-16, 2008.