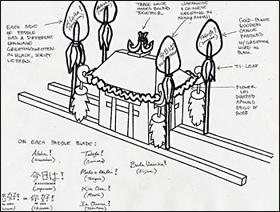 Kamehameha High School, Maui Campus has won the 5th Annual Maui Mikoshi Design Contest for the 14th Annual Honolulu Festival. They are the winners for the second straight year. It is also the third time that they have won this contest. Japanese Language teachers Mr. Kealii Mossman and Mr. Jared Mateaki, won a total of over 30 round trip air fares for students and chaperones, accommodation and ground transportation to participate in the 14th Annual Honolulu Festival which is scheduled from March 14 – 16, 2008. The theme of this year's Festival "Experience the Wonder" was incorporated into their design. Students and teachers will march with their Mikoshi on March 16, 2008 through Waikiki with thousands of spectators watching the parade.
Mikoshi is a decorative, portable float carried in parades on the shoulders of approximately 20-30 people in a playful and rowdy manner to reflect the joyous nature of their celebration. This contest is a special program created by the Honolulu Festival Foundation as an outreach community program to educate the youth of Hawaii about Japanese culture and traditions.
The Mikoshi Design Contest is open to all high schools on Maui. The winning design will be built in Honolulu. The Maui Mikoshi Design Contest began in 2004. Previous winners are 2004's Kealii Mossman and Kamehameha High School, Maui Campus, 2005's David Esselburn and Lahainaluna High School and 2006's Takako Dickensen and Baldwin High School.
Kealii Mossman is a high school teacher for the Business and Leadership Academy for Kamehameha Schools, Maui Camp. He is a former prosecuting attorney who changed his career upon realizing that it is better to teach our youth the right things at an early age rather than seeing them repeatedly commit crimes as young adults and having to punish them when it's too late. Kudos to Kealii Mossman for making a difference in our community.
The Honolulu Festival Foundation is proud to have the students of Maui participate each year in the Maui Mikoshi Contest and look forward to continuing this cultural program. Please come to see the young students of Kamehameha High School, Maui Campus carry their Mikoshi down Kalakaua Avenue at the Honolulu Festival Grand Parade on March 16, 2008.
Maui Mikoshi Unveiling Ceremony
Mar 15th, 2008
Venue:Hawaii Convention Center
Honolulu Festival Foundation
Phone: (808) 926-2425
URL:https://www.honolulufestival.com/en/
For questions and comments
https://www.honolulufestival.com/en/contact/