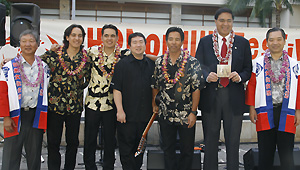 A beautiful day in Honolulu, a perfect way to kick off the 14th Annual Honolulu Festival. The Mayor's Press Conference was held today at Waikiki Beach Walk.
Our Mayor Mufi Hanneman kicked off the event by expressing his appreciation for the Honolulu Festival and what it does for our city, a great opportunity to showcase "the greatest city in the world" and by "being the bridge between the cultures of the East and West."
Mr. Takashi Sugi, President of the Honolulu Festival Foundation, thanked the media people and audience for all of their support. Mr. Tatsuo Watanabe, Secretary of the Foundation, highlighted the coming events which include the Fire-Spitting Dragon Daijayama, the anime actress Haruko Momoi and Ennichi Corner.
We were also treated to a sneak preview from one of the newest and hottest Hawaiian bands, Manoa DNA, who will be participating in the 14th Annual Honolulu Festival. They warmed the hearts of the audience when they performed Nada Sousou, a very popular Okinawan song made even more popular in Hawaii by Keali'i Reichel. Alex sang in Hawaiian and Nick in Japanese.
Look forward to an exciting array of performances and activities representing Hawaii, Japan, Australia, Republic of China (Taiwan), Philippines, the U.S. mainland and other Pacific Rim countries at the 14th Annual Honolulu Festival, March 14-16, 2008.