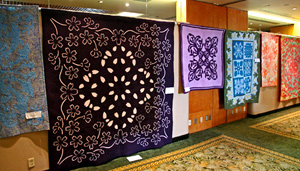 The 14th Annual Honolulu Festival will feature Poakalani & Co., the well known Hawaiian quilting company owned by the Serrao Family of Oahu. A display of over 60 quilts made by the students of Poakalani & Co. will be displayed at the Hawaii Convention Center from March 15-16, 2008. Quilt demonstrations and workshops will also be part of the program.
Hawaiian quilting dates back about 200 years and many of the families in Hawaii have beautiful heirlooms that have been passed down by great-grandmothers and grandmothers. There has been a resurgence in its popularity in recent years and it has also become a favorite hobby for the ladies of Japan. The arts and crafts of Hawaii have taken roots in Japan particularly with the introduction of hula over twenty years ago. It is only natural that the Japanese who enjoy making crafts with their hands would take a liking to Hawaiian quilting. The Honolulu Festival will feature the work of Poakalani, John and Cissy Serrao. They will share their work and their knowledge with Hawaiian quilt lovers here and from abroad.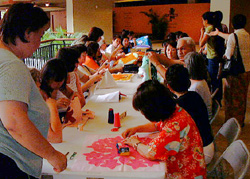 Hawaiian quilt makers are very proud of their own creations and designs. There is a purpose for each quilt made. The quilts tell stories of events and memories. Today's quilt makers are more willing to share their designs, however, still take the time to name their quilts to symbolize ownership and uniqueness. Hawaii is blessed with the beauty of its flowers, plants, and legends, quite often the subjects of the quilt designs. And this has made Hawaiian quilting unique from all other types of quilting. The popularity of Hawaiian quilting will continue to grow because of this.
The Honolulu Festival Foundation encourages attendees to participate in the programs that will be conducted by Poakalani & Co. For more information about Poakalani & Co. please link to www.poakalani.com. There is much history in their company.
Hawaiian Quilt
Mar 15th & 16th, 2008
Venue:Hawaii Convention Center
Honolulu Festival Foundation
Phone: (808) 926-2425
URL:https://www.honolulufestival.com/en/
For questions and comments
https://www.honolulufestival.com/en/contact/