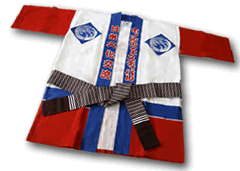 original happiThe Honolulu Festival Original Happi will be on sale from June 1st in celebration of Hawaii's Bon Odori Season!
Catch Bon Dance Fever in Hawaii each summer from the end of May through August! Bon Dances are held all over the islands, attracting loyal Bon Dance aficionados young and old. Let's go Bon Dancing with a Honolulu Festival Happi!
Honolulu Festival original products have been selling briskly through our online shop from the beginning of this year. The Honolulu Festival is happy to announce that the original Happi will be sold through Honolulu Festival's Online Shop due to an increase in requests from our supporters.
This "one size fits all" Happi is 100% cotton, feels great and comfortable! The Happi's simple design using U.S.A.'s patriotic colors of red, white and blue is accented with a Japanese style brown obi (belt).
The Honolulu Festival Online Shop also sells original T-shirts and convenient eco bags all designed by Hawaiian artists. The products are sold exclusively through Honolulu Festival's Online Shop.
The best part of our Online Shop, all proceeds will support the Honolulu Festival Foundation and fund our educational and cultural activities.
Please download images for Press.
[ Press images ]
---
16th Annual Honolulu Festival
Date: March 12(Fri)-14(Sun), 2010
Place: Honolulu, Hawaii Performance
Stages: Convention Center, Ala Moana Center, Waikiki Beach Walk
(March 14, 2010 4:30-8:00 Grand Parade down Kalakaua Avenue in Waikiki)
Honolulu Festival Foundation
Phone: (808) 926-2424
URL:https://www.honolulufestival.com/en/