Honolulu Festival, a festival that attracts everyone from all over the world!
The Honolulu Festival was originally started to promote cultural exchange between Japan and Hawaii. Over the years, the number of participating groups from the Pacific Rim countries besides Hawaii and Japan has been rising. And the Honolulu Festival is being recognized globally. There were also entertainers who used the Honolulu Festival as an opportunity to increase their popularity in the hope of getting more offers from Asia and U.S. mainland and leading them to suceed on the world stage.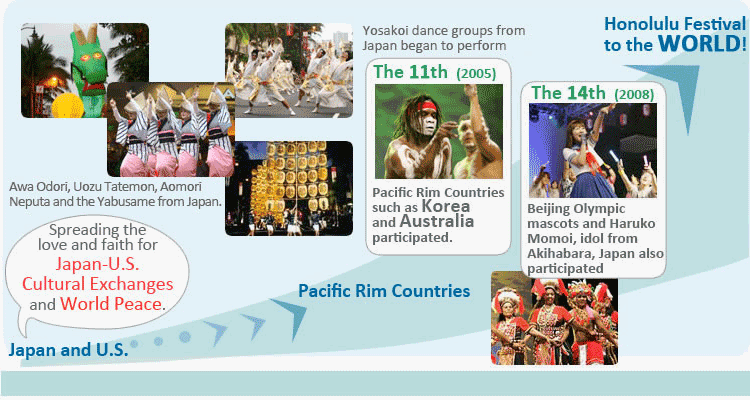 What is good about participating in Honolulu Festival?
Chance to appear on Hawaii's newspaper or TV!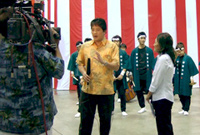 Honolulu Festival is a popular event in which many people in Hawaii are looking forward to participate. Preciously because of its popularity, numerous participating groups are being interviewed by the local TV of Hawaii, news as well as radio.
In addition, various festival events are being broadcasted in the media. This greatly enchances the opportunities for the events to be seen by many people.
Everyone will be able to enjoy the festival and performances from Japan, Hawaii and other Pacific rim countries.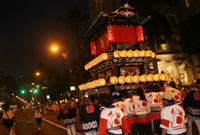 Every year, there are many participants including festival, traditional entertainers and Hula groups coming from everywhere in Japan to partipate in the Honolulu Festival. Furthermore, the number of perfomers from other Pacific Rim countries and US mainland besides Hawaii and Japan has also been increasing. Participants can enjoy the exciting Honolulu Festival not only as a performer but also as a festival guest!
Get a taste of the delicious cuisine at the famous restaurants in Hawaii!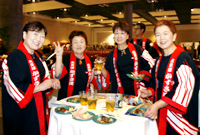 At the Friendship Gala event, people can enjoy the delicious cuisine prepared by some of the best chefs and the most famous restaurants on Oahu. The varieties of cuisine vary from Hawaii-Pacific to Japanese cuisine. Every year, there is always a long line of guests waiting to taste the delicious food. With all the performers gathering around and dancing together, it surely brings the Honolulu Festival to the climax.
Hawaii, the world's No.1 travel destination!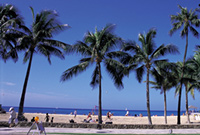 Hawaii is well-known as one of the most popular resort cities in the world. There are a lot of tourists who come to visit Hawaii every year. One of the reasons being that Hawaii is a relatively safe city compared to other popular resort cities. Throughout the year, tourists from all over the world enjoy spending vacations in Hawaii. Surely, it will become a memorable vacation if you can stay and join during the Honolulu Festival event.