The audience will be coming from all over the world. You may find yourself feeling uneasy about performing under such a different circumstance. There will be some tips for you in order for you to have a sucessful performance as well as being able to enjoy the festival together with the audience.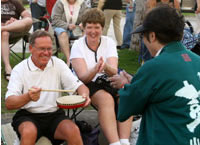 Being shy may end up letting your precious chance to exchange with others slip away. Let's take the courage and talk to the local people as well as guests, or even ask them to step on the stage and dance with them together!The guests will warmly welcome you if you show your smile and love to them!
Communication is the key to overcome the language barriers!

Let's learn some basic Hawaiian and try using them!
Hawaiian:

Hello, Love, welcome

Thank You

Encore, do it again.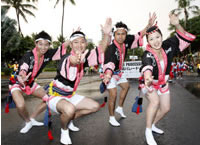 By deciding the words of crowd cheers and chants ahead, audience will all join together and shout out during the Honolulu Festival. This makes the performance more interesting and fun to see. Entertain them even more!