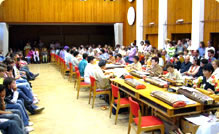 Participation years from 2006(12th)
Our group, Asomikai, practices Taishogoto, Bunkakoto, Koto and Zenidaiko, and we are celebrating our 23rd year as a foundation. We are a big family of 250 members. Once or twice a month we practice in order to participate in regional cultural activities and events of any size, both inside and outside of Japan.
We are seniors whose average age is 75, but our youthful minds always find excitement and enjoyment in every minute of our present life. We participate in the Honolulu Festival hoping to exchange friendship and establish strong and heartfelt ties with people we meet.