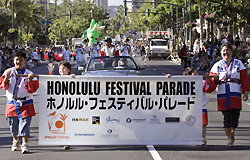 Participation years from 2006(12th)
July 2007 marks the beginning of this cultural group. It is a non-profit organization formed to preserve and perpetuate the culture, historical and folk significance of the Philippine dances. In the Ilokano language, Bullalayaw means "Rainbow." This Rainbow stretches from the Philippines, bringing the colorful dance culture to Hawaii. Our goals is to share the knowledge learned and have the opportunity to serve as a bridge to educate our youths in their culture and to proudly preserve their heritage in the presentation of our folk dances. Our dance style follows the teaching of Mr. H. Wayne Mendoza who teaches a credit course at the University of Hawaii in Philippine dance. He also represents the State Foundation on Culture and the Arts as an Artist in Philippine Dances.
In today's performance, members from our sister group PCGH or Philippine Cultural Group of Hawaii will be joining the members of Bullalayaw in performing the dance, Sakuting. Both groups, PCGH and Bullalayaw are under the direction of Mr. H. Wayne Mendoza.