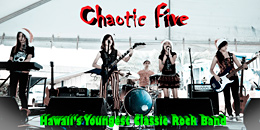 Participation years from 2006(12th)
Chaotic Five is a kids rock band from Oahu. The members range in age from 11-13 years old and they play mostly classic rock music from the 70s, 80s and 90s.
They first started practicing together about a year ago in their parents' garage. Since then they have learned songs from artists such as Journey, Toto, Van Halen, Blondie, Ozzy and Scorpions and more. The band has played at popular venues such as Hard Rock Cafe, Ala Moana Centerstage and at many charity events.