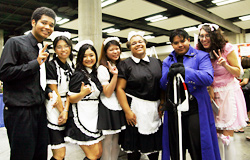 Participation years from 2006(12th)
Student Veterans of America (SVA) is an independent student organization associated with the University of Hawaii-West Oahu (UHWO) campus. The SVA will help to set up the cosplay cafe at the Honolulu Festival.
This club, recently formed at UHWO, is designed to provide support, activities and fellowship for members of the association, and to provide services to veterans within the university, community, and the State of Hawai'i. It is open to all University of Hawai'i – West O'ahu students, alumni, and faculty.