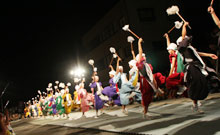 Participation years from 2006(12th)
Daidengaku was a popular form of Japanese performance from 1000 A.D. to 1600 A.D.
This art which perished at one time has been revived today in Japan. The production is about dancers praying for a good harvest and honoring the gods in their floral hats and colorful costumes. The spectacular dance is done to the beat of the taiko and the melody of the flute. We are excited to have 25 local dancers from Honolulu participate with us on stage. Please enjoy Daidengaku, its Japanese melody and rhythm.