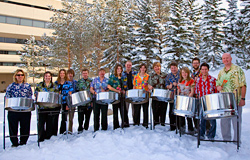 Participation years from 2006(12th)
Global Drums – Pangea from Alberta, Canada is an exciting World Music Percussion Ensemble performing original works and traditional music on Steel Drums. The group has performed in Japan, United States and around Canada. Global Drums, under the direction of Adam Mason, also performs traditional African music and dance, Japanese taiko drumming, Brazilian Samba Bateria and a not-so-traditional Percussion Ensemble.
Special guest artists include acclaimed steel drum soloist, Tracy Thornton and one of the leading steel drum makers in the world, Mr. Alan Coyle.