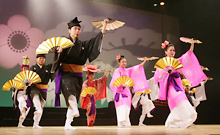 Participation years from 2006(12th)
The dance company Izena-no-kai was established in 1998. Since then, the company has been performing on a number of stages around Tokyo weaving the ambience of Okinawa, the islands of Ryukyu and Amami, into the dances. The company has also been on stage overseas since 2001, in the United States, Taiwan, Finland, Bulgaria, Indonesia and Romania. Expectations continue to rise.
The unique dance configurations, choreography and our many costumes have established its popularity. We have become the crowd's favorite among the Ryukyuan Dance World.