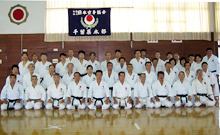 The Japan Karate Association is the only incorporated association in the world of Karate approved by the Ministry of Education, Culture, Sports, Science and Technology.
By adapting and eliminating the old techniques, Master Funakoshi created and organized a contemporary version of the traditional Shotokan Karate School and made it one of the Japanese Martial Arts. The organization's goal is to carry on, promote and develop this school inside and outside of Japan.
Our emphasis is on the development of our youth as well as spreading the "Bushido spirit"(samurai spirit), "Kata"(form), Japanese spirit, culture and traditions throughout the world. It is our desire to be the world's best (technique), strongest and largest Karatedo group. Our general members and associations are proud of our full time instructors as well as our trainees. They work together and encourage each other through their endless training.