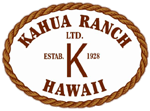 Kahua Ranch will be offering throughout the day, periodically, a five minute line dance performances and a roping demonstration.
————–
Kahua Ranch welcomes visitors to come beautiful Kahua Ranch on the Big Island of Hawaii. 'Kahua' can mean the 'beginning' or the 'essence' for the area of land is where King Kamehameha trained his personal guard before his campaign to unite the islands for the first time in Hawaii's history. The spirituality of the land can be felt here in its rolling hills and vistas that reach from the ocean to the over 4,000 ft in elevation.
Kahua Ranch Adventure Tours offers a variety of ways to experience the beauty of the property. They offer ATV rides on some of our 8,500 acres. They offer a Historical Tram ride around some of the eighty-year-old ranch and let the charm of the ranch encompass visitors. On selected evenings they also offer a delicious Paniolo (Hawaiian Cowboy) style dinner with an open bar, live entertainment, dancing, roping, branding and visitors take the time to view the stars through our professional telescope while enjoying tasty smores.