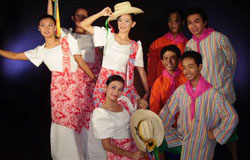 Kalayaan Philippine Dance Theatre
Kalayaan Philippine Dance TheatreKPDT is a folkloric dance group founded in Cavite, Philippines that features creative filipiniana and ethnic dances. It aspires to preserve the Philippine authentic dance and music artistry, furthermore to educate the Filipino people and share to foreign friends the genuine fine points of richness of the Philippine cultural heritage. Currently, the group is regularly staging the much applauded repertoire including the Banga-Salidsid, Yakan Paunjalay, the famous Tinikling, and numerous rare and unpublished Philippine dances to promote the country's historical arts.
La Salle Filipiniana Dance Company
The La Salle Filipiniana Dance Company was established on June 1993 under the Cultural Arts Office in De La Salle University-Dasmarinas. The LSFDC is the only group in La Salle System that features creative folk and ethnic dances of the Philippines. The group has performed in various institutional and provincial activities such as LS2K Production; a grand Lasallian celebration and Sayaw Filipininas; a showcase of dances and music held annually at De La Salle-Lipa, Lipa Batangas. It has also performed in various hotels and establishments in and around the Metro. Its mission is to prevent cultural extinction and to elevate the Art of folk and ethnic dances here in our country by educating the Filipino people with proper information of our rich and diverse Culture.