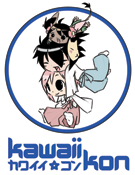 Participation years from 2006(12th)
Kawaii Kon is a three-day convention event dedicated to creating a broader awareness of, and appreciation for Japanese animation by celebrating the richness of this art form. The convention promotes the growth of the anime and manga fan base in Hawaii, as well as growth of related community groups, businesses and industries both here and abroad.
In addition to providing a central event for fans and enthusiasts, Kawaii Kon seeks to become a vehicle for sharing and disseminating industry information. Kawaii Kon also provides the community and related industries the opportunity to network and conduct business. Fans, artists and industry guests gather from all over the world here in Hawaii for this 3-day extravaganza.