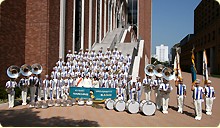 Under our motto "Unity," we, the Kinki University Band members, strive to develop humanity and student-life fulfillment. In order to achieve our goal, we practice daily and engage in a wide range of activities—including regular concerts, POPS concerts, stage-marching shows and various regional parades.
At the All Japan Wind Instruments Competition, we participated 24 times and won the Gold Award 16 times.
Our activities are not restricted to Japan, we have also participated in many overseas concerts and parades.