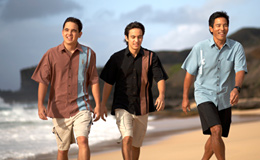 Participation years from 2006(12th)
A Family band that was formed in 2005 in Hawaii. "DNA" stands for Dad, Nick and Alex and yes, it is all in the genes.
Original compositions "Discover Aloha with me" and others were featured as the Hawaii Tourism Japan campaign songs since 2008 and quickly become hits in Japan. "Aloha you -Kizuna-" a Japanese song that was featured as the song of the month in April and May on NHK TV program called "Minna no Uta" and has been attracting many fans.