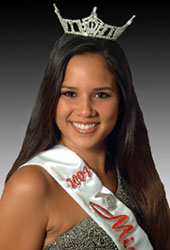 The Kona Coffee Cultural Festival is proud to present, Miss Kona Coffee 2009 Ku`ulika Karratti. Kuulika is 22 years old. She is a graduate of the University of Hawaii at Hilo with a degree in Hawaiian Studies. She is currently a Hawaiian Language teacher at Konawaena High School. She will be responsible for promoting Kona Coffee locally as well as internationally with a promotional trip to Japan with UCC Ueshima Coffee Company. A member of the Miss Hawaii and Miss America Organization, she has qualified to compete at the Miss Hawaii Scholarship Pageant in June where she is eligible to receive scholarship money to further her education. She has spent a great deal of time doing numerous appearances at schools, festival and tourism related events.
The Kona Coffee & Tea Company
In 2003 the Kona coffee & Tea Company was crowned with the highest horner within the renowned Gevalia Cupping Contest during the 33rd Annual Kona Coffee Cultural Festival.