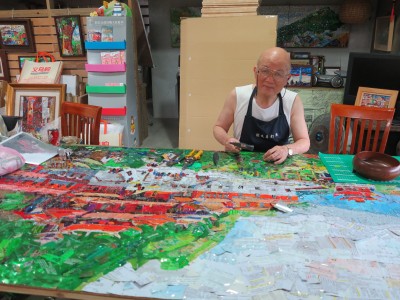 "From a distance, paper-thin metal-master Darfar Hu's artworks look like oil paintings on canvas. However, as one looks closer, one soon discovers a completely different world of fine-edged artistic creation.
Darfar Hu's artworks are composed of the tin from assorted containers. Each tin container has been carefully cut into many diminutive pieces, whose angles, color and texture are carefully arranged and nailed to wooden board. Organizing original imprinted, lined, colored, and textured tin pieces, and placing them on a wood medium, causes the images of these puzzled and puzzling pictures to form. Darfar Hu calls these works, ""Metal Mosaic.""
Just prior to the turn of the century, in 1996, Darfar Hu, a multi-linguistic individual who successfully conducts a private hardware business in Taiwan, created his ""Metal Mosaic"" artistic style, with neither formal introduction or training in art to fall back upon.
The themes of Darfar Hu's works are derived from his visual childhood memories of Chiufen, a small mountain village located in the northern part of Taiwan. Darfar Hu grew up in Chiufen where he constantly experienced an incredible panoramic view of Jilong Mountain and the shores of Pacific Ocean. In Darfar Hu's Metal Mosaic, he captures the natural aspects of the mountain village as well as its inhabitants' life style from 1940's to 1960's. Though some might think the subject-matter ancient by contemporary standards, those who know art and humanity recognize our human sense of temporal existence is ironically timeless.
Thus, Darfar Hu hopes that by artistically revitalizing human images of his village's past, people who visit and experience his Metal Mosaic, whether they be within their own villages or without, will fondly remember and consider their recent and distant personal encounters with life and living, on this incredibly beautiful cosmic island we call Earth.
"