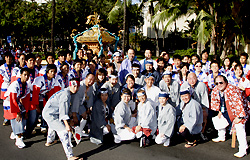 Established in 1997, the Rafu Mutsumikai has participated in numerous Japanese festivals of many cities, including LA Nisei Week, SF Cherry Blossom Festival, Japan Week Las Vegas and Houston.
Through carrying Mikoshi together with local people, we wish to promote cooperationand understanding between us regardless of the race gender or nationality.
Mikoshi is a portable shrine traditionally carried by community, people during local festival to appreciate the year's prosperity and show their rising spirits to the God.
The members enjoy carrying Mikoshi very much, and we hope to share this exciting experience with many people all around the world.