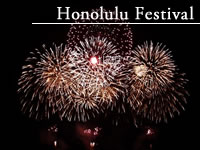 The Ryukyu Koten Afuso-ryu Ongaku Kenkyuu Choichi Kai Hawaii was officially established in 1994 and is the first Afuso-ryu Ryukyuan classical music school to be organized outside of Okinawa.
Grant "Sandaa" Murata who has trained under Terukina sensei since 1985 presently heads the organization. Afuso-ryu has enjoyed a steady upward growth over the past few years and has a membership of about 60.
In 2000, Terukina sensei was designated a National living treasure of Japan making our group the only group in Hawaii be able to claim direct ties to an instructor of such stature.