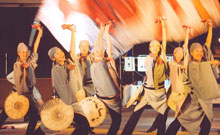 Participation years from 2006(12th)
Sachukin Shoko Enbutai was established 8 years ago in Nomi City in Ishikawa Prefecture, home of Matsui of the New York Yankees. Our goal is "To cherish Japan and its spirit."
Regardless of age or gender, we want everyone in the world to enjoy dancing. We want our performance to create a special bond between those who dance and those who watch. This is our second time to participate in the Honolulu Festival. We hope to promote international goodwill.