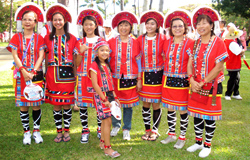 Participation years from 2006(12th)
The members of "Taiwan" are Taiwanese students and local American-Taiwanese. The students attend Brigham Young University, Hawaii Pacific University, Kapiolani Community College, and the University of Hawaii. The locals are artists, doctors, professors, and retirees within the community.
In Daoism culture, heaven sends their "som-tie-tzu" – their third princes – to walk on earth and promote peace and harmony. Their third princes dance for you today to bring best wishes to you and help chase way lurking evil. The song and dance you will see performed comes from the (AH-may) Amei tribe, one of the fourteen tribes of Taiwan. They bring you wishes of peace to Waikiki with their song and dance.