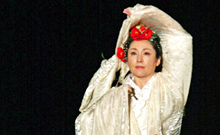 Participation years from 2006(12th)
Tenshumonogatari is a story recital in a world where images actually move in front of your eyes. This story takes place in "Tenshu kaku" (castle tower) and is about the untimely death of Tomihime, whose ghost inhabits the tower with her lady attendant. A young samurai captivates her heart and the two fall in love. A surprising fate awaits them.
Keiko Matsuzaka is one of Japan's leading actresses. She has dedicated her life to revive the new production of Tenshumonogatari. This will be her first overseas performance.