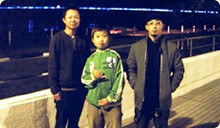 Participation years from 2006(12th)
We play music energetically on our home ground of Kyusu in Japan. Our style is a collaboration of Japanese taiko and shamisen with western drums.
We will be more than happy if you can feel our energy and positive attitude through our music. Please enjoy the feeling!