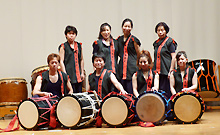 Our team was established in January, 2004.
Our group consists of eight men and women, ranging in age from the teens to the 60s.
We play the Japanese drums at various events including "local festivals" and "wedding ceremonies." Our goal is to instruct children for the healthy upbringing of young people. We hope that the sound of the Japanese drums will enter your hearts and souls. We will perform our very best, please cheer for us.