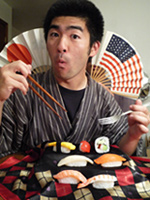 Participation years from 2006(12th)
Yasu is an award winning magician, who imbues the essence of Japanese traditional culture beautifully in his magic and storytelling.
He enthralled audiences all over the U.S. including his appearances the National Cherry Blossom Festival in Washington D.C. (the world's largest Japan festival), Disney Summer Stage Kids in New York and many others. He is also the founding artistic director of the Bento Rakugo storytelling troupe, which tours throughout the Hawaiian Islands.