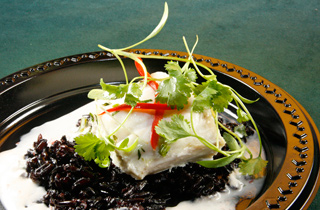 The Friendship Gala is an exciting event featuring wonderful cuisine and cultural performances.
The purpose of the Friendship Gala is to promote friendship and international goodwill between the people of Hawaii and the Asia-Pacific region.
Festival participants are offered a unique insight into the cultures of the region through dance, song and regional cuisine by some of Hawaii's most famous chefs and restaurants.
The Friendship Gala enable the Honolulu Festival Foundation to offer enriching educational programs and opportunities to increase the global understanding and awareness of local school children. New and existing educational programs include free behind-the scenes tours of Honolulu Festival floats and displays at the Hawaii Convention Center and the Maui Mikoshi Design Contest.
Entertainment :
– Manoa DNA, Hawaii
– Hawaii United Okinawa Association (HUOA), Hawaii
– Star Chorus, Tokyo/Japan
– SUGAIZANAIREN, Kochi/Japan
– Sonoda Gakuen High School, Hyogo/Japan
[ Date ] Friday, March 7, 2014 6:30pm-8:30pm
[ Venue ] Hawaii Convention Center
Kamehameha Exhibit Hall 1
[ Ticket ] $90 / $70 those for those under 21 years of age.
Includes food and one beverage.
*FREE admission for those under 6 years old. Does not include food and beverage.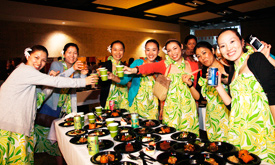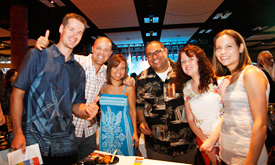 *Tickets are to be picked up at the reception desk on THE DAY.
When picking up your tickets you must bring a copy of "Order Confirmation Email"or provide the email address and name used to purchase the tickets.
Participating Restaurants & Menu

Roy's Hawaii Kai
http://www.roysrestaurant.com


Chilled Garlic Shrimp
Kalbi Glazed Short Rib of Beef and Roasted Garlic Potato Salad
---

Morimoto Waikiki
http://www.morimotowaikiki.com


Toro Tartare with Wasabi, Sour Cream and Nori with Sweet Soy Dashi
Angry Chicken with Spice Jus and Blistered Shishito Peppers
---

Ruth's Chris Steak House
http://www.ruthschris.com


Lobster Bisque
Seared Tenderloin with Ruth's Southwestern Macaroni & Cheese
---

Mariposa
http://www.neimanmarcushawaii.com/restaurant.aspx


Barbecued Tiger Prawns, Avocado, Citrus Gazpacho and Ricotta Salad
Hamakua Tomato & Beet Salad, Cucumber, Kula Greens, Pink Peppercorn Maui Goat Cheese and a Tangerine-Mustard Vinaigrette
---

Honolulu Coffee Company
http://www.honolulucoffee.com


Pulehu Pineapple Eclair
Freshly Brewed Coffee
---
And Honolulu Festival 20th Anniversary Special Sweets