SAKURAGAOKA Junior & Senior High School
We are from Tokyo, Japan.This is the second time for us to join the Honolulu Festival.Together, over 200 students from SAKURAGAOKA Junior & Senior High School will be sharing with you the Japanese culture.Please come and join us.
1st/2nd Ninja
3rd Photo Booth
4th Japanese Calligraphy,Origami(Paper folding)
5th Comics,Coloring, Japanese Culture
6th Japanese Calligraphy, Japanese Card Games
7th Japanese Culture
8th Ayatori(Cat's cradle), Shooting Game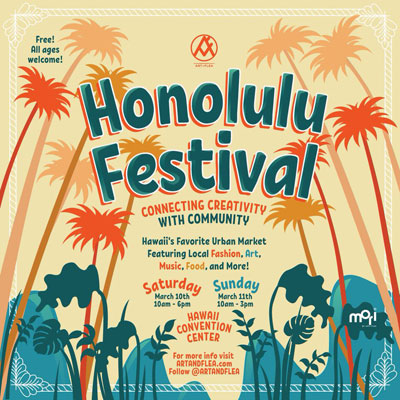 Art + Flea
Art+Flea, Hawaii's favorite pop-up urban market &
shopping destination is returning to Honolulu Festival! 20+ local designers, crafters, & artists featuring unique art, fashion, music, and more! Visit artandflea.com or follow @artandflea for more info.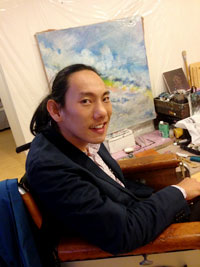 Egg Shell Lei Art Workshop with Riki
"This is ME!" That is what Rikiya Asai or "Riki" always says.
Being born with Cerebral Palsy, Riki believes that it's not a disability, but that is what makes him unique — and the more uniqueness there are, it makes this world more beautiful.
Riki's work is full of energy and compassion, and his painting have been highly acclaimed by major World organization like the United Nations.
Born in Japan and now a Hawaii resident, his art has traveled across the ocean and has touched the lives of many.
In this workshop, making use of egg shells from 100% local Hawaiian eggs, Riki will show us how to make beautiful Hawaiian lei art. Let's spread some Aloha together!!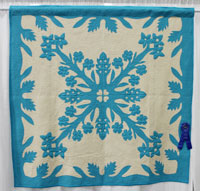 Traditional Hawaiian Quilt
Traditional Hawaiian art, Hawaiian Quilt. Appreciate the beauty in the large, symmetrical designs that make Hawaiian quilts unique. It is rare to see such a large collection of Hawaiian quilts in one location. Even when you visit museums and art galleries you may only see a small collection displayed. Stitch by stitch, each quilt is hand sewn with heartfelt care by the quilter. Each quilt exhibits a family's history, a family's story, Hawaiian culture and history. Take the time to view each quilt and be captivated by the story each one is conveying.