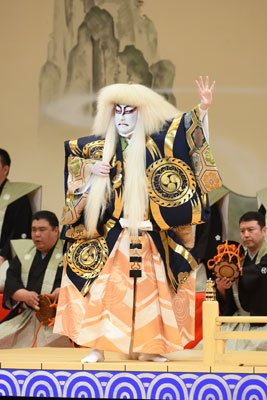 ************************************
The 25th Annual Honolulu Festival
Friendship Gala "Kabuki Night" Special

************************************
In 1995, the Honolulu Festival began with the purpose to cross-promote cultural understanding and friendship between Japan and the United States. Throughout the years, the festival has supported various projects and in 2018 celebrated the 150th anniversary of Japanese immigrants coming to Hawaii. This year, in commemoration of the 25th Honolulu Festival, the Friendship Party will be showcasing the final performance of "2019 HONOLULU KABUKI" at the Hawaii Convention Center. Through Kabuki, Japan's traditional theatrical art form, we hope to deliver the Japanese culture and tradition as well as the "heart and soul of Japan" to the people of Hawaii. We believe that the Kabuki performance intertwined with Japanese culture will create an even stronger bond to promote cultural exchange not only between Japan and the US but all countries of the Pacific Rim.
* Funds raised in the Friendship Party will provide opportunities for local students to enhance international understanding and awareness through high-quality educational programs.
Purchase Ticets has been closed.
| | |
| --- | --- |
| 18:45~19:15 | #1 2019 Ohana Award Ceremony |
| 19:15~20:40 | #2 2019 Honolulu Kabuki Night |