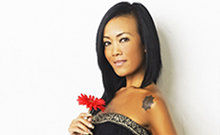 Participation years from 2006(12th)
Haruyo moved from Japan to Hawaii in 1999 to learn hula. She became a member of Hula Halau o Kamuela and participated in the Merrie Monarch Hula Festival from 2000 to 2003, performing and winning four years in a row.
She created H-Power Co. in Hawaii in 2003 and was involved in TV, radio and magazine appearances. Conducting seminars as a lecturer, event organizer and personal trainer, she organized a new type of hula dancing technique in Hawaii, Japan and California. "Hula Haruyo's Beauty Workout" DVD went on sale on June 24, 2009 by Columbia Music Entertainment.