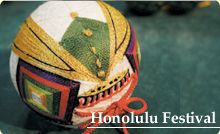 Participation years from 2006(12th)
Kokura Gion Matsuri originated in the castle town of Kokura in 1618 to pray for the town's prosperity. The festival has changed slightly since the Meiji era and has become today's Taiko Gion. The style of beating used for Kokura Giondaiko is rare in Japan.
Two taiko, 45.5 cm in diameter, are placed in the front and back of the dashi (festival car) and drummers beat both sides of the taiko as they walk to the beat of jangara. One side of the taiko is called doro and makes a low rhythmic sound. The other side is called kan and makes a high pitched sound full of energy. Jangara plays the most important role in taiko performance and leads the harmony of taiko. We would like all of you to feel the unique single sound of Kokura Giondaiko and enjoy its rhythm.