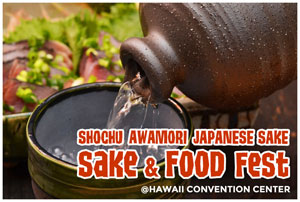 Japanese sake, such as sake, Shōchū, and Awamori, is made using a unique manufacturing method in Japan, and the uniquely developed sake culture would be proud of to the world.
A new event, "Sake & Food Fest" with the theme of "Sake" and "Food" that goes with sake will be held at the 26th Honolulu Festival to promote Japanese sake to the world.
At the "Sake & Food Fest" you can learn about the culture, taste and enjoyment of sake, as well as the little known history of sake in Hawaii.
In addition, we will prepare a large number of brands from sake brewers from all over Japan and set up a booth where you can sample. Please take this opportunity to find your favorite sake.
Schedule:
・3/7 Sat 10:00am-6:00pm
・3/8 Sun 10:00am-3:00pm
Venue: Hawaii Convention Center
*ID with photo is required for tasting
*Samples are limited