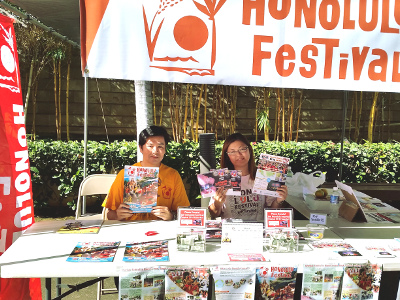 Ohana Festival was held at the Japanese Cultural Center of Hawai'i on Sunday, January 10th, 2016. A lot of Japanese traditions and cultures were presented in the Ohana Festival, which made it popular even among locals. The guests were able to enjoy the Japanese Taiko (Drum) and dance performance on the stage, as well as various displays and sales of the traditional craft works. Besides these events, many guests also enjoyed the Japanese local specialties, food booths and Sado (tea ceremony) during the festival. The Festival was another great success this year.
The Foundation of Honolulu Festival, the sponsor of the Ohana Festival also exhibited a booth this year. We handed out Honolulu Festival flyers and official calendars. We would like to express our sincere gratitude to those who gave us cheers and support as well as their acknowledgement and generous donations. Thank you very much for stopping by our booth. We also met quite a few people who mentioned that they had been to the Honolulu Festival every year and were looking forward to it very much. Our heart will always be surrounded by the warm feeling and echo of joy from the Honolulu Festival.
The Honolulu Festival is supported by the donations from everyone. Please kindly support us by using our online donation page.
A lot of different Japanese traditions and cultures will be presented in the Honolulu Festival. Please look forward to this exciting event.