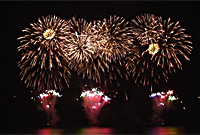 Many thanks to all of you for coming to the 18th Annual Honolulu Festival. We would also like to thank the performers and volunteers who made this festival the very best.
The Nagaoka Fireworks from Niigata, Japan were displayed at this year's Honolulu Festival. There were a total of over 1,400 fireworks launched. If you missed the fireworks or any of this year's activities, or simply would like to see them again, please see our Ustream channel.
We hope to see all of you next year at the 19th Annual Honolulu Festival!