Multi creator Pantovisco, whose numerous works on social networking sites have been attracting a lot of attention, will be participating in the Honolulu Festival!
Pantovisco and his works
The "Chaotic Picture Diary," a series with surrealistic and addictive content, as well as the "LINE Series," which depicts single frames of everyday conversations from a unique perspective, are among the many works that have attracted attention on social networking sites.
The characters appearing in each series are also rich in individuality. Among them, Perochi, a dog appearing in the "Hechitake Series," is so popular that he has been used in product packages of famous companies.

PANTOVISCO EXHIBITION at Honolulu Festival
Pantovisco, who has been creating a variety of impressive works ranging from funny and amusing to satirical, will be holding an exhibition of his works at his booth on the first floor of the Hawaii Convention Center!

Copyright Pantovisco
8 Questions for Mr. Pantovisco
Q.1 Have you ever visited Hawaii before?
Yes, of course. During the visit, I was touched by the charms of Hawaii, which led to my participation in this year's exhibition.

Q.2 I know that each of your works is very important to you. What are your honest feelings about visiting Hawaii with your works?
This is actually my first time to hold an exhibition overseas. I am very deeply moved and happy to have such a special opportunity in Hawaii.

Q.3 What will you be doing at the Honolulu Festival exhibit floor and in other activities?
At the exhibition venue, I will mainly exhibit original paintings on canvas. And, wanting to do something a little different, a robot named "MORK" will serve as a guide in the exhibition hall. Other than that, I am interested in "Malama Hawaii" and would like to experience and transmit various activities.

Q.4 Are there any events or organizations at the Honolulu Festival that you are looking out for?
I am looking forward to the "Kyushu Products Exhibition," the "Nagaoka Fireworks," and the "Grand Parade" featuring performances by various groups. I may not be at my own exhibition much because there are so many different events and exhibition I would love to check out.

Q.5 Honolulu Festival will be holding its very first product exhibition "Kyushu Food Fair" this year. You being from Fukuoka prefecture (in Kyushu), are there certain foods or crafts from Kyushu that has a special place in your heart?
I am also the Kurume Hometown Ambassador for Kurume City in Fukuoka Prefecture. Kurume City is famous for Kurume Kasuri, a traditional textile that dates back over 200 years. Someday I would like to design and make "Kurume Kasuri Aloha Shirts".

Q.6 Honolulu Festival will also hold its first "Sake & Food Festival". Do you like to drink?
Among alcoholic beverages, I especially love sake. I actually launched a collaboration sake this year with three local sake breweries in Kurume City. Sake in Hawaii also sounds delicious.

Q.7 Is there anything else you would like to do in Hawaii that is not related to the Honolulu Festival?
I would like to get up a little earlier and go for a morning run around Diamond
Head, as I did the last time I was in Hawaii. On the way back, I would like to stop by the Honolulu Zoo. I would also like to visit a local supermarket. I love finding unique local products that you can't find in souvenir shops.

Q.8 Could we please have a few words from you?
I have two themes for my stay in Hawaii: first, the success of the exhibition, and second, to spread the joy of Hawaii and the Honolulu Festival to everyone in Japan. In fact, during my stay in Hawaii, I will be using social networking services to send out various messages and do Instagram Lives. If you can't make it to Hawaii but still want to experience the Honolulu Festival, please check out my Instagram during the festival.
Pantovisco's official Instagram:@pantovisco
---
Thank you very much, Pantovisco!
March 9 through 13, 2023 (HST) is the Pantovisco Hawaii Week! Be sure to check out his Instagram Stories and Instagram Live from Hawaii.
Mahalo!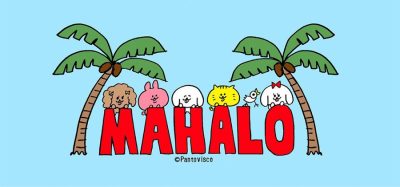 PANTOVISCO EXHIBITION in HAWAII:
Hawaii Convention Center 1st Floor
Exhibition Date:
March 11, 2023 (Sat) 10:00~18:00
March 12, 2023 (Sun) 10:00~15:00
Performers information(Pantovisco)