Friendship Gala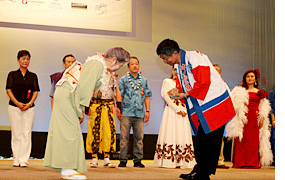 The Friendship Gala was held in the night on Saturday, March 10. This event promotes friendship and international goodwill among people from the Asia-Pacific region. The participating members and affiliates of the Honolulu Festival have gathered and deepened their friendships while enjoying the dishes prepared by popular chefs in Hawaii.
The Best Contribution Award was presented by Mr. Irita, the President of the Honolulu Festival Foundation in honoring those devoted participants who have contributed for consecutive years.
Afterwards, various performances were staged such as Australian Aboriginal dance by Descendance from Australia, traditional Taiwanese dance by Nantou County Formosan Aboriginal Culture Village from Taiwan. Also, Riatea Helm, a Hawaiian female singer performed one of her hits. In addition, Awa-Odori was performed by Tonosama Ren and yosakoi dance was performed by Sugaizanairen.
It was such a exciting night at the Friendship Gala, where all of the participants were united for the success of the Honolulu Festival.