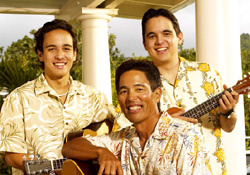 Manoa DNA, Hawaii's newest and hottest family band performed at the 14th Annual Honolulu Festival. DNA is an acronym for Dad (LLoyd Kawakami), his two sons Nick and Alex. The name "Manoa" was added because they are living in Manoa, which the band was formed in 2005. Manoa DNA creates contemporary Hawaiian music with a beautiful harmony and excitement. In addition, Carla who works as their manager as well as a mother of Nick and Alex is also supporting the band.
In the beginning, Manoa DNA performed several gigs at the graduation party. Eventually, the band officially began pursuing the music career led by Alex. Also, the Kawakami Family found "IOLANI Sportswear" which is a successful apparel brand.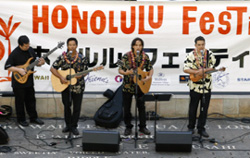 Furthermore, Manoa DNA's first CD Follow Me was a big hit. In addition, one of their songs Discover Aloha With Me was used for the TV commercial of the campaign "So Much More Hawaii" run by the Hawaii Tourism Authority in 2008.
While the band visited Japan for their performance, Lloyd Kawakami knew that his grandfather was from Fukuoka Prefecture. On the other hand, he never knew that his grandmother was from Hiroshima Prefecture, which he discovered about it before actually performing in Hiroshima. This was big news for both the Kawakami Family and Manoa DNA fans in Hiroshima. Lloyd Kawakami nostalgically said "We feel like we came back to our hometown." Also, he and his sons said that they would like to return to Hiroshima again in the future.