The annual Friendship Gala was held at the Hawaii Convention Center in the evening on the 2nd day of the festival. There were members of the participating groups, local businesses as well as the general guests. This is an exciting event where you can enjoy various dishes offered by the famous restaurants in Hawaii.
The venue was filled with guests as the doors were opened. Also, there were long queues at the booths where there were 16 restaurants offering their dishes. Those chefs were very busy in which they served their customers up front and diligently prepared for more dishes in the back.
The following were the 10 participating restaurants:
The Pineapple Room by Alan Wong
Hoku's
Beachhouse at the Moana
Roy's
Hakone Restaurant
Nobu Waikiki
Chef Mavro
The Willows
Bluwater Grill
Tavola Tavola Italian Osteria
Ruth's Chris Steak House
Hong Kong Harbour View
Gros Bonnet Culinary Academy
Sammy's
Mariposa
Hy's Steak House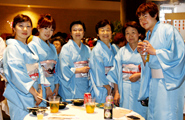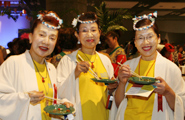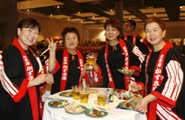 Also, there was an opening ceremony held on stage which was led by Kei Segawa and Alice Inoue by the time when everybody's stomach was full. Afterwards, an awarding ceremony was held for the Best Contribution Award given by Mr. Sugi, who is the President of the Honolulu Festival Foundation. Each representative of the chosen group received the award with gratitude, which the members were cheering and taking pictures in front of the stage.
After the ceremonies, the following groups performed on stage:
Descendance (Australia)
Nantou County Formasan Aboriginal Culture Village (Taiwan)
Manoa DNA (Oahu, Hawaii)
Sugaizanairen (Kochi, Japan)
Tonosama Ren (Tokushima, Japan)
During the last performance by Tonosama Ren, the audiences went up on stage and danced Awa-Odori with the performers. The people from various countries and different parts of Japan were united as one at the Honolulu Festival. The scene where everybody gets together and enjoys dancing symbolizes peace and friendship. Every year, the Friendship Gala offers a place to make friends.