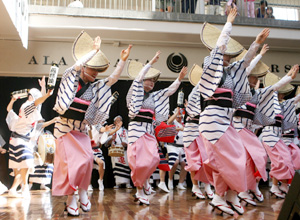 Awa Odori (Awa-Dance) originated from Tokushima, the capital city of Tokushima Prefecture on the island of Shikoku in Japan. In August, the Awa Odori Festival will be held during the Obon period in which ancestral spirits are believed to return according to the Buddhist teaching. Also, this is the time when people go back home and visit a grave site to honor their ancestors. In addition, the Bon Festival will be held during the Obon period as well which the Awa-Odori is known to be derived from it. Today's Awa-Odori Festival is being performed with visitors for excitement.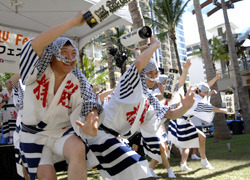 Furthermore, Tokushima's Awa-Odori Festival is one of the popular festivals in Japan similarly to New Orleans Mardi Gras. Over 1.5 million people including dancers and visitors participate every year. You can have the ultimate enjoyment by parading on the streets along with the musical accompaniment of shamisen, taiko drum, gong and flute. The dancing team is called "ren", which the dancers will be wearing the same yutaka. Man and woman have a different choreography in which they will be dancing together with the shouts of "YATTOSA!" The song of Awa-Odori is famous which goes "Dancing fool, watching fool, all fools, so let's all dance!"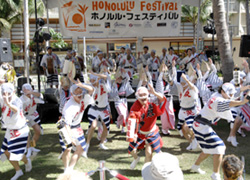 There is a theory that 400 years ago, people first started dancing Awa-Odori when the feudal lord of Awa Province held a festival to celebrate the completion of Tokushima Castle. Also, there is another theory that those unique music and dance were created by the drunken crowd. Despite of it, Awa-Odori is very entertaining just by watching it.
The woman dancers will be wearing a kimono and straw hat, then elegant dancing by raising their arms up high and standing on tiptoes. On the other hand, the man dancers will be performing dynamically. They will be putting on a tenugui (hand towel) and tie it under their nose. In addition, the reason why the dancers are raising their arms up high is to praise heaven.
There are over 900 registered teams of Awa-Odori. Among those 70 teams are active throughout the year. The Honolulu Festival Foundation is much honored to invite Tonosama Ren from Tokushima. This group has been active since 1951 which their strong and exciting dancing performance is a must-see.