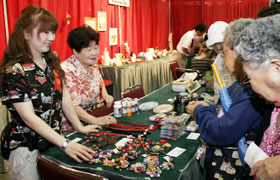 The Craft Fair was held for 2-days on Saturday, March 14 and Sunday, March 15. There were various traditional crafts from Hawaii and Japan. Also, there was a variety of vendor booths which the visitors were observing each of them and stopped at their favorite.
The booth of Nihon Sports Fukiya Association was popular, where you can experience the Japanese blow gun called the fukiya. Mr. Joichi Saito, who is the chairman of the Hawaii branch said that the fukiya is popular sports among the workers in Japan and it is known to be very healthy. The members of the Hawaii branch are mostly elders however, the fukiya was enjoyed by a wide range of age group at the Craft Fair. Mr. Robert Banks from Canada was able to hit on 5 targets out of 10. He said "It was very fun! I want to challenge it again", which he seemed to like it very much.
Also, there were booths run by the groups from Japan where the guests can experience the Japanese culture and arts. They include chigiri-e (torn paper), picture letter and Japanese calligraphy; Zōri making (sandals), traditional Japanese handball and Karuta (Japanese playing cards); origami (paper-folding). Those booths were popular which the seats were always full. The guests were participating in a serious manner. There were many who wanted to stay longer since the time was short.
The exhibition of the Hawaiian quilt represented the Hawaiian culture. There were displays of Hawaiian quilts made by the students of Poakalani & Co. In addition, most of the displayed quilts were large. Mr. John Serrao, who is a well-known Hawaiian quilt designer said "Hawaiian quilt reflects feeling of the creator". Then, he observed the Hawaiian quilt that was designed with the patterns of cherry blossom and explained "This was made by the Japanese living in Hawaii. You can feel how much she misses Japan through this quilt".
The Craft Fair is a place where people can understand and learn various cultures and traditional crafts. Each exhibitor introduced their proud culture and goods to the visitors from around the world.