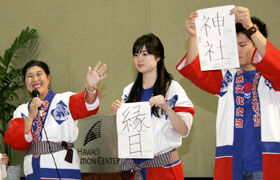 The Ennichi Corner was the most popular event among children similarly to last year. There were traditional Ennichi games such as yo-yo fishing, goldfish scooping, shooting gallery and kendama. Also, there was a booth for cotton candy which is one of the popular snacks at the Ennichi Festival in Japan. In addition, the Ennichi Corner was crowded with various visitors including families, couples and children.
The staff members were also vigorous. Tomoaki Higuchi, who was in charge of the goldfish scooping booth said "We've prepared 2,000 goldfishes for the past 2 days. We hope that many children will come and visit our booth".
A lot of children played every single game of the Ennichi Corner. Also, they were trying their best to scoop the goldfish which was swimming swiftly. In addition, it seems like the kendama was difficult compared to other games which the children were trying hard to land the ball on the spike for many times.
Furthermore, there was a Japanese toy called the take-tombo (bamboo-copter) which is now rarely seen in Japan. The children painted it using their favorite colors. They learned how to play which there was a number of colorful take-tombo flying in the air.
In addition, there were various challenges of origami (paper-folding) from complicated Daijayama to a simple gridded folding for the beginners. Those faces of accomplishment after their successful challenge were memorable. Also, there was a continuous sound of popping in the booth of shooting gallery, where the cork bullets are being fired. It was popular that there was a queue.
There were heartwarming scenes similarly to the Ennichi Festival in Japan. For instance, some of the children were happily playing the taiko drum while they were getting a shoulder ride from their father and some were holding the cotton candy. Also, there were children walking and playing with their yo-yo which created the atmosphere of Japanese Ennichi.
Furthermore, Mrs. Linda Fujikawa who is an assistant professor of Japanese Language and Culture at the Kapiolani Community College gave a lecture on the topic of Ennichi with her students. They explained the original meaning of Ennichi that it can be read as "a relationship day" which means to embrace the relation with others beyond the differences of religion. Also, Mrs. Fujikawa explained "Originally, Ennichi is a religious practice of the Shintoism which is held at a Shinto shrine. The Shintoism believes that there is a spirit in all things and creations, which is connected to every life. This belief can be related to the concept of Hawaiian spirit. Please make a connection with others through Ennichi".
It was a great opportunity for many to learn about the Japanese traditional culture of Ennichi though detailed explanation by Mrs. Fujikawa with a cheerful smile and her students assist. The Ennichi Corner became a place where everybody including the locals, local Japanese and tourists can get together and enjoy beyond the nationality just like Mrs. Fujikawa mentioned during her lecture.