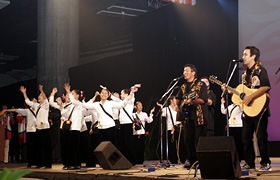 The Friendship Gala was held at the Hawaii Convention Center in the evening of Saturday, March 15, 2009, where various performances were taking place during the day.
This is an annual event hosted by the Honolulu Festival, where the participating groups, locals of Hawaii and tourists gather and enjoy many gourmets prepared by the local chefs. It is filled with so much excitement every year which only the participants will know.
There was already a long queue before the opening at 7 p.m. The venue became lively as the doors opened, where there were over 1,300 visitors. Also, many medias were present compared to previous years which were impressive.
The 12 food booths and bars run by the celebrity chefs from the finest restaurants in Hawaii including Alan Wong's, Roy's Hawaii Kai, Nobu Waikiki, 3660 on the Rise and Chef Mavro were surrounding the seats of the audience inside the spacious venue. Each of them prepared appetizer, main dish and dessert which were made with fresh, local ingredients. They include the local ahi and mahi mahi. Also there were abalone, greater amberjack as well as Hamakua mushrooms from the Big Island. In addition, the Maui onions and Kula strawberries were used. Those dishes prepared with fresh ingredients by the top-notch chefs can't go wrong. It was such a luxurious opportunity to try them all at once. Everybody was smiling happily and enjoying their food.
The ceremony for the Honolulu Festival Contribution Award was held on the main stage around 8 p.m. Each of the winning group was invited to the stage. Sugaizanairen from Kochi Prefecture received the Best Contribution Award as a result of their long-year participation from the first Annual Honolulu Festival to the present.
The members of Sonoda Gakuen High School are believed to be the most spirited group at the Honolulu Festival. They showed their vigorous performance after the ceremony. Also, they performed off stage as well and cheered the audience.
Next was the energetic yosakoi dance by Sugaizanairen. It was followed by the live performance by Moana DNA representing for Hawaii. The audience were shouting and dancing together on stage which was very lively.
Moreover, there were performances from various countries such as the Philippine dance by the children of Montessori De Cagayan Dance Troupe from the Philippines.
Furthermore, the last performance was Awa-Odori by Tonosama Ren from Tokushima Prefecture in which they participated last year as well. Everybody danced in unity along with the music which went beyond the language barrier.