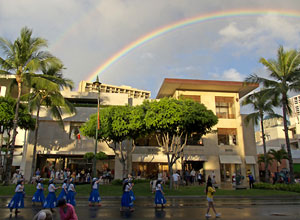 The Grand Parade was held on the last day of the Honolulu Festival on Sunday, March 15, where over 100 performing groups paraded on the streets of Kalakaua Avenue in Waikiki.
The participating groups gathered at Fort DeRussy Beach Park before the parade. They were preparing and practicing for the last time as they waited for their turn. Also, there were a lot of children among some of the participating groups, where they took pictures with their parents and interacted with other groups. There were a lot of spectators on the roadside than last year, which they waited with great anticipation.
Furthermore, there was a sudden rain which has stopped quickly. Then, the rainbow appeared in the sky, as if it was celebrating the beginning of the Grand Parade.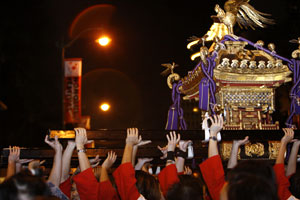 The parade finally began with a police barricade which led the parading routes. The first appearance was the Royal Hawaiian Band which played the beautiful march. Next were the attractive winners of the beauty pageant such as Miss Hawaii Filipina and Miss Korea. Then the traditional hula dance was performed. Also, there was a baton twirling performance by the cute little baton twirlers. It was followed by the energetic cheerleaders and cheerful high school team. Next was the dancing performance by the wild and strong Australian aborigine. In addition, the prosperous Chinese dragon dance was performed. Then, there was a performance of the upbeat hip-hop dance. Furthermore, there were various performances from various countries of the Asia-Pacific region. The roadside was crowded with spectators, where there were continuous applause and cheers.
Also, many of the performing groups were from Japan. One of the annual participating groups Sugaizanairen has a lot of local fans.  Then, the Team Hosei consists of college students in which they performed the yosakoi dance. Also, Kokura Giondaiko Hozonshinkokai showed a wonderful performance of the taiko drumming. In addition, the Nippon Sport Science University Cheerleading Club VORTEX participated for the first time this year which showed such a dynamic acrobatic moves. Furthermore, the Daidengaku participated for the first time. The Japanese actress Keiko Matsuzaka came to show her support which they both co-starred in the play Tenshu Monogatari.
The last appearance was the Honolulu Daijayama. The Daija's gigantic cart weighs over 2 ton which appeared with a spark of flame and ringing sound of bells. The spectators cheered as it appeared which the parade reached its climax. The parade came to an end when the flame of the Daijayama had disappeared.