Obama Girls & Obama Boys; "Obama for Obama" support group:
Interview with Yasunori Maeno
The members of Obama Girls & Obama Boys participated at the 15th Annual Honolulu Festival for the first time in 2009. Recently, "Obama for Obama" support group that promotes the city of Obama, Japan is gaining a lot of media attention even in the U.S., since its name is same as the President Obama. We interviewed Yasunori Maeno, who is the representative of Obama Girls & Obama Boys.

Please tell us about your group Obama Girls & Obama Boys.


We formed the support group called "Presidential candidate Obama for Obama at our discretion" during the election in 2008. When Barrack Obama was elected president, we changed our name to "Obama for Obama" support group. We also formed our hula group called "Obama Girls" and we are performing in various places.
However, we realized that the group with girls only is a bit boring so we formed Obama Boys as well. Currently, Obama Girls and Obama Boys are performing together. Also, Obama Girls have been practicing for a little over a year since March of 2008. On the other hand, Obama Boys only been practicing for 5 months.

I heard you've received a courtesy visit from the Mayor of Honolulu right after your arrival. Please tell us more about that.


Our flight was delayed about 20 minutes which we barely arrived at the state capitol on time. The ceremony was already started when we entered the building. As soon as we sat down, we were led to the stage. Then, we received a letter of gratitude which thanked our contribution to the President Obama. Afterwards, we've attended the welcoming luncheon as well as the welcoming reception which were hosted by the Mayor of Honolulu. Also, we handed our souvenirs that we brought from the city of Obama. In addition, there was an awarding ceremony, where we received participation award which I accepted it on behalf of our group.

We've heard that your group was interviewed by the local media later on. How was the TV station in Hawaii?


Yes, we went to the KITV station and performed hula. We got surprised because we were suddenly called to appear on their show. We've been to the TV station and appeared on the show in Japan but this was our first time to enter the TV station in Hawaii. Also, we introduced our original merchandise in the show. We were very pleased to be invited on the show. It does contribute to our future and also we were able to build friendship with others.

How much did your group practiced for this year's Honolulu Festival?


We did it once a week. Every member has their job so we gathered around 6:00 p.m. and practiced until 9:30 p.m. for 2 hours. It is also good for losing weight and staying healthy.

Is your group performing hula in various places of Japan as well?


Obama Boys is performing less since the group is still new. On the other hand, Obama Girls is dancing the hula dance in various places. Both of them are scheduled to perform on May and June in Osaka. Also, the Honolulu Festival is the first major event for Obama Boys.

You are also dancing as one of the members of Obama Boys. How is hula?


I started dancing since November of last year. It is difficult but fun and it gives me a good feeling. I always liked playing sports such as golfing but now, I'm all about hula (laughs).
[ The scenes at the stage in Ala Moana ]

What are the plans for "Obama for Obama" support group in the future?


We would like to focus on hula. Our purpose is to support the President Obama but also, we would like to lead this to the community building of Obama City. Our first goal is for the President Obama to come and visit our city.

What kind of activities are you planning for the community building?


Our group is private which is run by civilians such as house wives and office workers so we are not forcing any activities but rather we are performing independently. We would like to keep expanding our groups in our ways. For instance, we held one event last year, where various private groups performed their hula. We are providing a place where everyone can join without constraint. We would like to gather many people with volunteer spirits. Also, it is our goal to encourage those from outside of Fukui Prefecture to come and enjoy the city of Obama.
In addition, we partnered with Hawaii Tourism Japan last year. Ashley Layfield, who won the Miss Hawaii 2007 came to our city and danced for us.

What do you think of the Honolulu Festival as a place for promoting your city?


We are related to the Hawaiian event so it is easy for us. If you learn hula, you will be motivated to dance in Hawaii. Originally, we appeared in the Pan-Pacific Festival as well. This year, we were pleased to be invited from the Honolulu Festival Foundation to the Honolulu Festival.

Would you like to meet with the President Obama? If so, what would you like to do with him?


Of course we want to meet with him as soon as possible. If we did, we will be hula dancing (laughs). We just want to meet with him more than anything else rather than doing something with him.

Do you have any message for the audience of Hawaii, Hawaii legislators and Mayor of Honolulu?


Although we are still inexperienced group, please continue to support us. We would like to have an opportunity to perform hula in front of the President Obama someday in Honolulu. It might be a great idea for him to come and visit Japan afterwards. We appreciate for all your support.
[ The scenes of the Grand Parade ]
Obama Girls & Obama Boys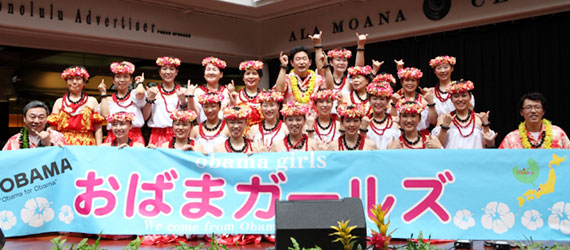 【 "Obama for Obama" support group 】
---
Wouldn't you like to promote your city in Hawaii?
[ Contact Us ]