Interview with the Executive Director of Toba City Tourist Association, Kenji Komiyama
The members of Toba City Tourist Association participated at the Honolulu Festival, which will be their sixth time this year. Today, we interviewed the Executive Director, Kenji Komiyama.

Can you tell us how Toba City Tourist Association began participating at the Honolulu Festival?


There is what we call Japan Association of Travel Agents in Toba, where I first heard about the Honolulu Festival. We knew that this festival is gaining popularity every year and our members said they want to participate again. Ever since our first appearance, we've been participating at the festival which will be the sixth time this year.
Also, I used to work for the travel agency, so I often made a visit to Hawaii. We are busy with the Honolulu Festival but the great thing about Hawaii is that it is a refreshing place, where the air is fresh and you can relax.

This is your sixth time at the Honolulu Festival. Is there any particular incident you remember from the previous festivals?


There are a total of 30 members that participate in the parade. Every year, I get impressed by the fact that they are dripping their sweats and dancing for Toba. Also, our performers are from Toba which I feel very thankful. In addition, 30 members were from Japan and 15 members were from Honolulu.

How do you recruit your volunteers in Hawaii?


I ask my friend who currently lives in Hawaii to recruit our local volunteers that can dance with us. I met him when I was working for the travel agency. Our previous volunteers will be participating in the parade this year as well.
The majority of the volunteers are Japanese that live in Hawaii. On the other hand, our volunteers from last year consisted of people from Hawaii and other countries. Also, everybody will be able to dance by practicing one or two times since the the dance itself is not that difficult to learn. We brought the Toba's happi for our volunteers to wear as well.

Can you explain about the song "Toba Monogatari"? 

This song was written and composed by the Toba citizens so that they can enjoy dancing for Toba City. The lyrics express the feeling of a wife who waits for her husband's arrival during the Sengoku period. Also, there is an annual festival called "Toba Minato Matsuri" which is held on July, where people of Toba enjoy dancing to it.

What international activities are Toba involved in?


Toba is a city of international tourism and culture which is also a Sister city with Santa Barbara in the U.S. The people from Santa Barbara come to visit Japan and we visit their city in vice versa every year. We are spreading our tradition of Toba by dancing Toba Monogatari and performing the taiko drumming through cultural exchange program.Unlike Santa Barbara, the Japanese culture is very much apparent in Hawaii, so I don't think we will feel the cultural barriers. Also, we sometimes perform Toba Monogatari in China and Korea.
Pictures of the Cultural Exchange Program in Toba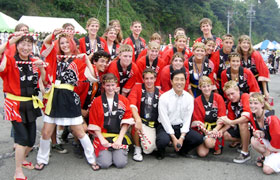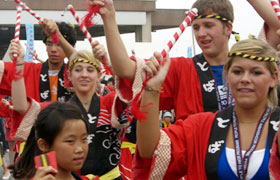 In what way do you encourage interaction and also promote Toba City at the Honolulu Festival?


We encourage the locals to participate in the parade and dance with us. Also, our members will be dressed as a woman diver and hand out pearls to the audience. The woman diver is a woman who dives into the sea to catch abalone and lively shrimps. We get good reaction from the audiences, because I think that the majority understands the Japanese culture, since there are many Japanese people in Hawaii. I can see the differences of cultures within the U.S. because I often visit to Santa Barbara.
Last year, we appeared on the local 101 FM radio program to promote our city Toba, which was hosted by the DJ Ikko Tomita. I would like to meet with her again and give our picture from last year to her.

What do you think about community building in Honolulu?


I think Honolulu is a great place for community building from a perspective of the Tourism Association. This is because Hawaii is very tender or filled with hospitality, where it naturally accepts tourists with open arms.
We have something to learn from the tourism in Hawaii. Currently, Toba has an annual tourists arrival of 5 million and those that stay in the city is about 2.1 million. Approximately, 90 thousands of them are from overseas. Hawaii is a place that people stay at least for 4 nights but those who visit to Toba mostly stay for one night. Similarly to Hawaii, we would like to expand Toba to increase repeat guests.

Please tell us about the attractions of Toba.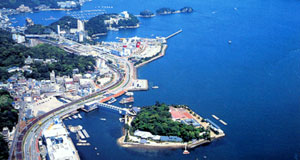 Toba is a port city which is famous for Pearls. Kokichi Mikimoto is credited with creating the world's first cultured pearl in 1893. There is an island called Mikimoto Pearl Island, where you can visit the Pearl Museum and also, you can watch the demonstration of a woman diver.
Also, Toba is a pleasant city throughout the whole season but especially, I think the spring season is great for enjoying cherry blossom. You can also enjoy marine sports during summer. Also, there is a variety of seasonal seafood such as Ise-lobster, abalone and others.
In addition, Toba's annual festival called "Minato Matsuri" will be held during the fourth week of July. The fireworks will be launched and the locals will be dancing Toba Monogatari with excitement.
【Toba-City Tourist Association】
[ The members of the Toba-City Tourist Association with the local volunteers]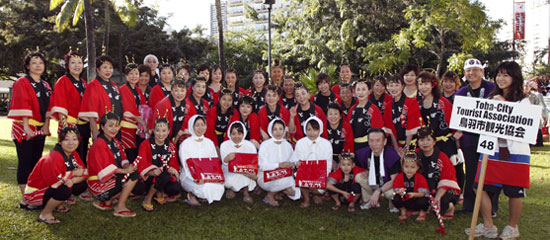 ---
Would you like to participate Honolulu Festival?
[ Contact Us ]